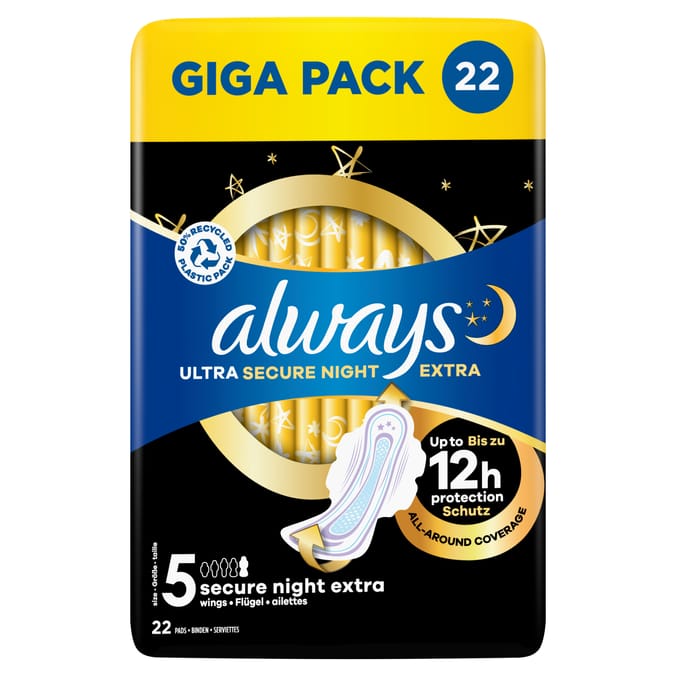 Don't settle for less than an uninterrupted night's sleep with up to 12h protection : ALWAYS Ultra Secure Night Extra (Size 5) sanitary towels with wings are designed with 3 protection features so that you don't need to wake up to check for leaks or change your pad halfway through the night. A 9% larger front and 85% larger back*, paired with our LeakGuard technology ensure all-around coverage to prevent leaks during period nights. The InstantDry system absorbs liquid in seconds and keeps wetness away from your skin. It is also equipped with an OdourLock technology that neutralises odours, so that you can feel fresh and clean . Sleep, ALWAYS Ultra has got you covered with 3x protection. Dermatologically approved by the Skin Health Alliance. Find your perfect fit with Always My Fit, a tailored sizing system that helps you find ALWAYS' best period protection based on both your flow and knicker size.
Sanitary towel with up to 12h protection
9% larger front and 85% larger back than Ultra Normal (Size 1) for all-around night coverage
LeakGuard technology locks liquid and helps to prevent leaks
Super absorbent sanitary towel with InstantDry system that absorbs liquid in seconds
Odourlock technology neutralises odours
Approved by dermatologists of Skin Health Alliance
Wings help keep your sanitary towel in place for comfortable protection
50% recycled plastic pack
More from Health & Beauty...