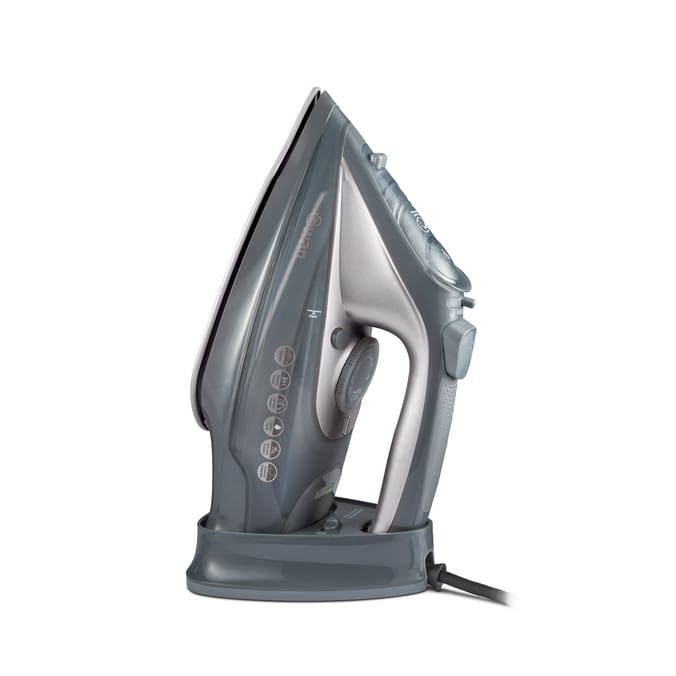 This lightweight yet powerful Cordless Iron is the ultimate in versatility. The cordless design provides complete freedom of movement when in use, which is perfect for tackling wrinkles and creases. The soft-touch ergonomic handle also allows for a comfortable ironing experience. There's a variable steam function (with spray) to tackle anything from delicate fabrics to thick clothing items, as well as a 120g cordless steam burst and 150g corded option, both with a 30G/Min continuous steam supply. Super-fast 30-second heat up and rapid 15-second recharge allows for consistent work without interruption. It also comes with an adjustable thermostat control, so you can adjust heat settings on a scale depending on what you are ironing. The ceramic coated soleplate allows for a smooth transition from crinkled creases to smooth sailing. The long-lasting 350ml water tank means fewer refills during those longer jobs, plus there are anti-scale and anti-drip features that mean your clothes come out with perfect results every time.

Cordless Design Offers Complete Freedom Of Movement When Ironing
Powerful 120g Cordless Steam Burst & 150g Steam Burst Corded
Variable Steam Function With Spray For Versatile Ironing
Anti-Scale & Anti-Drip With Self-Clean Function
Super-Fast 15 Second Recharge
Lightweight Easy To Manoeuvre
Adjustable Thermostat Control
Rapid 30 Second Heat Up Time
Soft Touch Ergonomic Handle
30G/Min Continuous Steam
Ceramic Coated Soleplate
350ml Water Tank
More from Laundry & Cleaning...