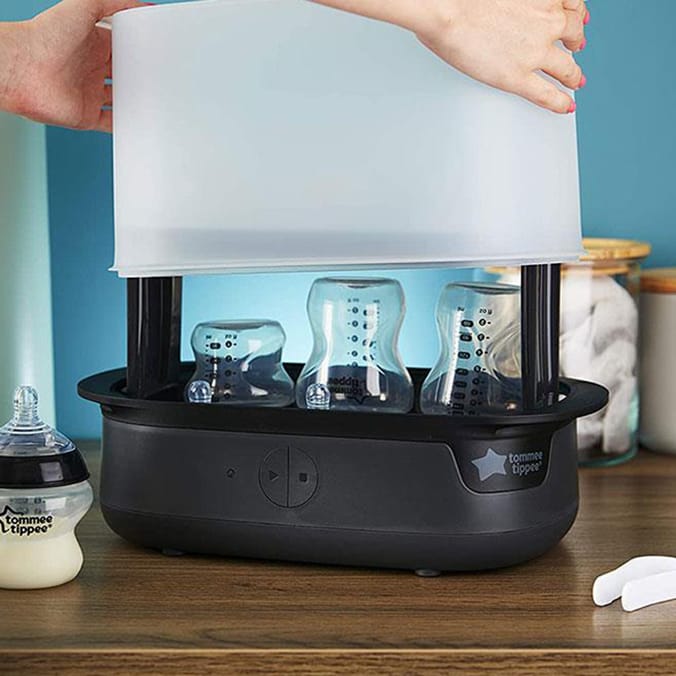 Having clean, sterilised bottles ready for every feed is an essential part of caring for your baby. The Supersteam Electric Steam Steriliser gives you a quick and easy way to protect your baby's tummy from harmful bacteria and viruses†. The less time you spend cleaning and preparing your bottles, the better. With this electric steriliser, you can sterilise up to 6 baby bottles in just 5 minutes**, ensuring you always have feed-ready bottles on hand for your baby.
How do I use the Tommee Tippee Electric Steriliser? Simply add 80mls of water to the base of the steriliser, use the 2-tier rack to neatly stack your bottles, breast pump parts, soothers and other accessories, replace the lid until it's secure and turn on to sterilise for 5 minutes. The steriliser will automatically switch off once the cycle is complete.
Can I sterilise in advance? Steriliser contents stay sterile for 24 hours* when the lid is properly secured. There's no need to wait for the bottles to dry before using them, just ensure you allow time for them to cool down.
How often should I descale my Tommee Tippee Electric Steriliser? This depends on the area in which you live and how often your steriliser is used. If the water in your area is hard, then you may need to descale every 14 days. If it's medium, then you'll need to descale every 21 days and if the water is soft, it'll need to be descaled around every 28 days.
Simply use a de-scaler that's suitable for stainless steel i.e. kettle, iron and coffee machine de-scalers. Alternatively, you can use white vinegar, however this will need to be carried out more frequently as it's not as effective as a purpose bought de-scaler.
You can find out the quality of your water from your water provider.
Fits most bottles, soothers and breast pump accessories
Contents stay sterile for 24 hours with lid closed
Sterilises up to 6 bottles in 5 minutes
2-tier stackable tray/drying rack
100% natural steam
Easy-lift handles
One button start
Auto shut-off
BPA-free
More from Tommee Tippee...