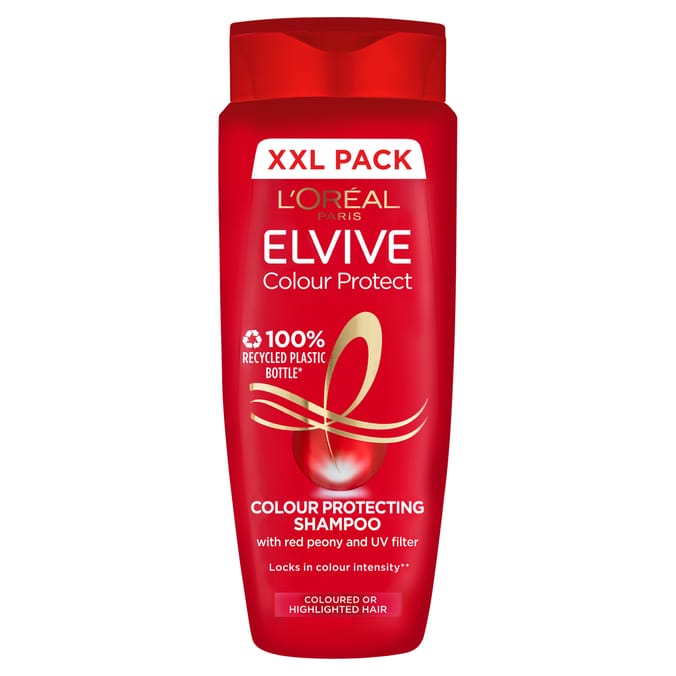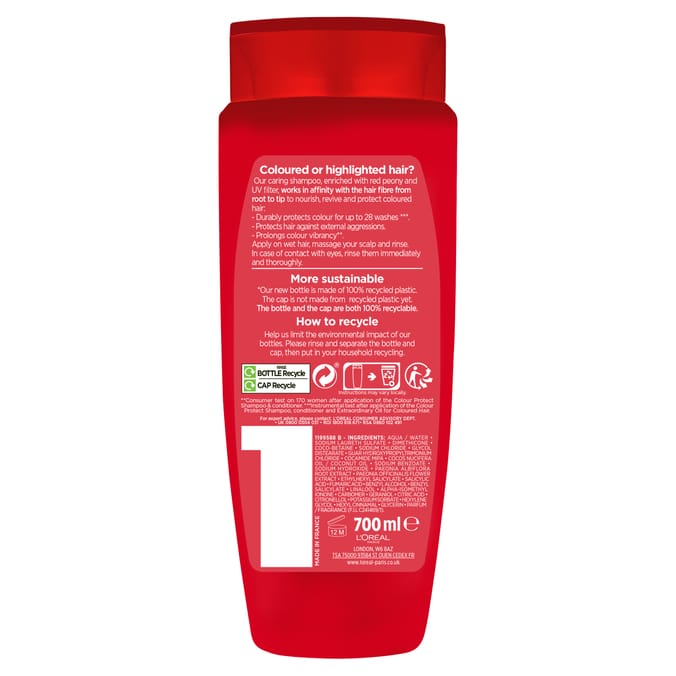 Britain's No.1 For Coloured Hair*: Coloured or highlighted hair? Try Britain's No.1 brand for coloured hair* Elvive Colour Protect. Our best shampoo for coloured hair, this range will protect colour vibrancy for up to 10 weeks**.

Caring Formula: enriched with red peony and UV filters that works in affinity with the hair fibre from root to tip Elvive Colour Protect shampoo will nourish, revive and protect coloured hair. It helps protect your colour for up to 10 weeks***.

Suitable for Coloured or Highlighted Hair: Ideal for coloured hair types. Elvive Colour Protect shampoo protects hair against external aggressions and prolongs colour vibrancy**.

Blonde, Highlighted or Silver Hair? This range of shampoo works together with our Purple Anti-Brassiness range. Elvive purple shampoo helps to neutralise brassy tones and leave hair looking beautiful and bright. Use as a weekly treatment alongside your daily Colour Protect routine.

L'Oreal Shampoo by Elvive Colour Protect for Coloured or Highlighted Hair

Use Elvive Colour Protect Shampoo as part of your full colour protection hair routine, followed by Colour Protect Conditioner, Mask and UV Oil. Apply Colour Protect Shampoo on wet hair, focusing on lengths and ends. Leave for one minute, then rinse. Follow with L'Oreal Colour Protect Conditioner. In case of contact with eyes, rinse them immediately and thoroughly.

More sustainable 100% Recycled & Recyclable bottles: Introducing our most eco-friendly bottles. The caps are 100% recyclable too but are not yet made from recycled plastic... we're working on that!

How to recycle Help us limit the environmental impact of our bottles. Please rinse and separate the bottle and cap, then put in your household recycling.

Source: ©2020 Nielsen data, value and units, Haircare category (client defined) 52 w/e 16/05/20 in United Kingdom (GB+NI) Total Coverage. https://www.loreal-paris.co.uk/elviveno1
©2018 Nielsen data, value & units, Haircare (client defined) 52 w/e 06/10/18 GB Total Coverage
*Consumer test on 170 women after application of the Colour Protect Shampoo & conditioner.
**Instrumental test after application of the Colour Protect Shampoo, conditioner and Extraordinary Oil for Coloured Hair.

Protects hair against external aggressions.
Elvive colour protect shampoo prolongs colour vibrancy**
Suitable for coloured or highlighted hair.
More from Health & Beauty...