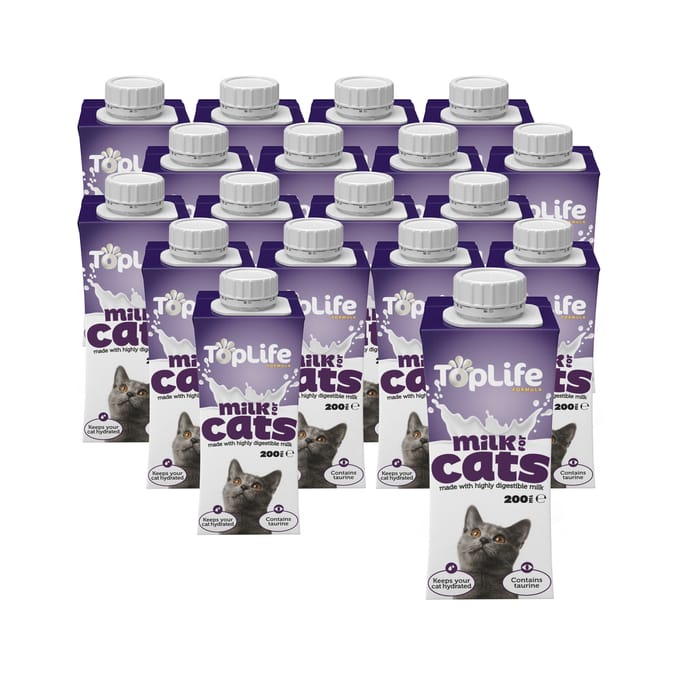 TopLife Milk for Cats is a delicious daily treat for your furry friend made from highly digestible lactose reduced cows' milk. Plus we've added Taurine to maintain healthy eyes and Inulin, which nourishes the good bacteria in your cat's digestive system. This refreshing treat is a fantastic way to complement your cat's diet, giving you the peace of mind that it is also nutritionally beneficial.

Cats love milk but can sometimes have problems digesting cows' milk. That's why we make our Milk for Cats from lactose reduced cows' milk. Reducing the lactose means it's easier to digest while retaining all the natural goodness and taste of cows' milk.

Cats can't get enough of our delicious milk, and it's a great way to help keep them hydrated which can often be difficult in cats, especially during summer months. You can add a splash of TopLife Milk for Cats to your pet's dry food or feed on its own as a delicious daily treat – they will love it!

No artificial ingredients, colours or flavours or preservatives
Helps keep them hydrated
Encourages weaning
Contains insulin
Re-closable cap
Added taurine
More from Toplife Formula...